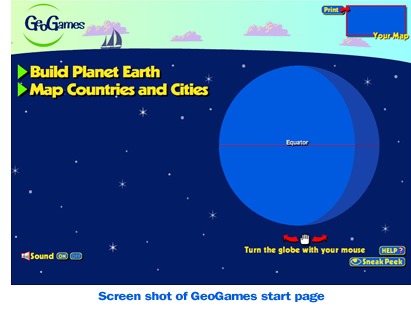 How to Teach with GeoGames
GeoGames challenges players to Build Planet Earth and Map Countries and Cities using fun graphics and sound effects on an animated 3D globe.

GeoGames is available online and as an app for your mobile devices (IOS and Android).
The game focuses on cognitive concepts such as spatial relationships (where the continents are in relation to each other and to the oceans), nesting (how a city is a unit within a country, a country is a unit within a continent, & etc.), and how countries, continents and oceans have vastly different sizes (scale).
Designed to help teachers teach and assess students' geography mapping skills, GeoGames can be played as a group activity or individually. Each level of the game is Graded: Easy, Medium or Hard. Players can track and record their completion times using the automated game timer as well as print customized maps that reflect their progress at each level. The $0.99 app version of GeoGames features a leaderboard.
Use the lesson plan below to start playing GeoGames with your students
Check out the online video to watch students play GeoGames!
Suggested Time:
Players should be allowed to complete each level of the game in their own time with recorded times set as benchmarks for the future. One class period should be allowed for introduction of the game and playing time.
Procedure:
1.
Encourage students to identify the details and features on a world map. Identify/Review North and South Poles, Continents and Oceans.
2.
Shift students' attention to GeoGames. We recommend using a SmartBoard or overhead projector to display game screen. Begin by describing the layout or features of the game interface. Ask students to read the title "Build Planet Earth". Ask students to identify the globe and the Equator. Demonstrate how to spin the globe. Allow students to practice spinning the globe. Next, click the "Sneak Peek" button. Identify the appearance of the grid or latitude and longitude lines on the globe.
3.
Click to "Build Planet Earth". Ask the class to make an educated guess as to where the North Pole goes on the globe. Then, use the "Sneak Peek" button to show a shadow of the North Pole on the globe, illustrating how the "Sneak Peek" button can help them to place object on the globe. Emphasize that the "Sneak Peek" button can be used at any time in the game to help them locate where an object should be dropped on the globe. Continue to play the game as a class.
4.



Allow students to "Build Planet Earth" in groups or individually, print maps and/or record scores.

Click here to play GeoGames>
(Print your map)



Students can continue to play GeoGames and continue on to additional levels independently once they understand the mechanisms of the game (globe spinning and "Sneak Peek"). Depending on the student grade level and prior knowledge teachers may choose to pre-teach vocabulary (see below) in "Add Mountains and Rivers" and "Map Countries and Cities" following the steps outlined in the procedure above.
Extensions:
1. Record student time scores and track improvement
2. Organize competitions between teams of students or individuals to see who can complete levels fastest.
3. Ask students to identify the objects used in the game on a real globe or world map.
4. Have students draw a free-hand map based on their memory from playing GeoGames.
VOCABULARY
Build Planet Earth
Add North and South Poles
Add Continents and Oceans
Add Mountains and Rivers
Easy:

North Pole
South Pole
Equator
Europe, Asia, North America, South America, Africa, Australia, Antarctica, Asia, Pacific Ocean, Atlantic Ocean, Arctic Ocean, Indian Ocean
Click to download this Map

Nile River
Yangtze River
Amazon River
Mississippi River
Himalaya Mountains
Rocky Mountains
Andes Mountains
Hard:
Ohio River
Ganges River
Huang He River
Volga River
Rio Grande
Missouri River
Ural Mountains
Alps Mountains
Alaska Range
Appalachian Mountains
Click to download this Map
Map Countries and Cities
Easy:

Washington, D.C., United States
Bejing, China
Pretoria, South Africa
Santo Domingo, Dominican Republic
Canberra, Australia


Medium:
Moscow, Russia
Cairo, Egypt
New Delhi, India
Baghdad, Iraq
Mexico City, Mexico
Ottawa, Canada
Nuuk, Greenland
Tehran, Iran
Rome, Italy
Panama City, Panama
Dakar, Senegal
Tokyo, Japan
Hard:

Madrid, Spain
Stockholm, Sweden
Abuja, Nigeria
Riyadh, Saudi Arabia
Brasilia, Brazil
Seoul, South Korea
Buenos Aires, Argentina
Dublin, Ireland
Pyongyang, North Korea
Kabul, Afghanistan
Paris, France
Addis Ababa, Ethiopia
Havana, Cuba
Jerusalem, Israel
Jakarta, Indonesia
Antananarivo, Madagascar
London, United Kingdom
Berlin, Germany

Click to download this Map
Click HERE to download the world geography mapping rubric (PDF)